A Journey Through India's History
From the British colonial heritage to India's ancient spiritual traditions to the modern adaptation to globalization, this trip will take you on an enthralling journey through India's, past and present.
Duration

18 Days
| | |
| --- | --- |
| Destinations | Mumbai | Goa | Hampi | Shivmoga | Chikmagalur | Hassan | Coorg | Mysore | Sultan Bathery | Ooty |

Journey Highlights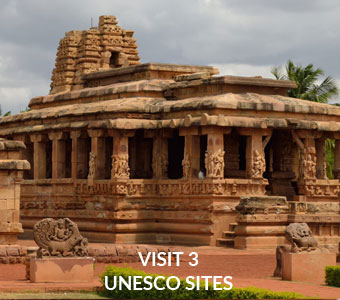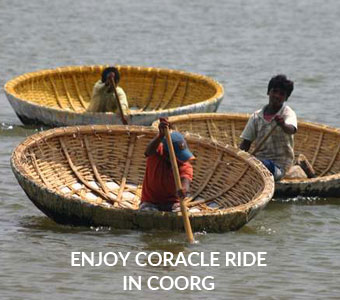 Mumbai
Our representative will pick you up at the Mumbia Airport and take you to your hotel. On the way he'll brief you about your tour, explains some cultural and social etiquettes, and answers questions that you might have.
Mumbai
Mesmerizing Mumbai, India's business capital and entertainment hub, AKA Bollywood, is a non-stop joy rie. We'll go on an excursion to Elephanta Island (a UNESCO World Heritage Site), a small but fascinating island just off the coast in the Arabian Sea whose temples and monuments date all the way back to the 8th century. Then we'll explore the vibrant and glamorous city at night.
Mumbai – Goa
Frolic in the ocean, walk on the beaches, bask in the tropical sun. Goa is one of most popular beach destinations in India. Formerly a Portuguese colony, the impact can be seen in its churches and buildings. Today we'll go for a walk in Old Goa to learn about the colonial heritage and then visit St. Francis Church (a UNESCO World Heritage Site).
Goa
There is lot to do in Goa and with so many possibilities we offer you many options to personally customize your day. Cooking classes, nature walks, yoga, spiritual ceremonies, live music and much more are at your fingertips in this diverse cultural mecca.
Goa - Hampi
We'll leave the exciting beaches of Goa for a more peaceful adventure in the medieval city of Hampi. Wit's Wandering through its ancient ruins makes for a fascinating yet relaxing time. We'll actually wait until tomorrow to properly explore the city, but you may have some time to walk around a bit upon your arrival tonight.
Hampi
Our journey into this historic medieval city will start with two UNESCO World Heritage sites, the Aihole and Hampi ruins. The magnificent rock-cut architecture shows just how impressive human achievement has been for hundreds and thousands of years.
Hampi – Shimoga
The drive from Hampi to Shimoga is a highly relaxing one. The majestic vistas full of lush green meadows contrast with the jagged rock outcrops to create some spectacular views. Upon arrival we'll walk around the royal precinct of Shivappanaila Palace Museum and learn about the city's interesting history.
Shivmoga – Chikmagalur
Another drive with striking landscapes of intense contrast, the breathtaking trip to Chikmagalur will make it seem like it only took minutes. Once we get there we'll go for a leisurely stroll through the serene hill town and then visit their local Coffee Museum.  Then we'll end the day with a trip to the Veeranarayana Temple.
Chikmagalur
Chikmagalur is renown for its coffee plantations and tea estates. It's a mesmerizing area that has an abundance of natural beauty and all the ingredients to make you fall in love with the place. You're going to really enjoy your stay on the foothills of the Mullayanagiri mountain range, and if you feel up for it you can even go for a trek.
Chikmagalur- Hassan
Famous for its ancient ruins and religious buildings, Hassan is one of the most stunning places in Karnataka. It offers a unique view into the religious and cultural practices of the region's past, and how they shaped modern India. We'll visit the awe-inspiring Hoysala temples of Belur and Halebid to show you this history.
Hassan – Coorg
Today starts with a leisurely drive to Coorg, another charming hill city in an area that is sometimes called the Scotland of India. Its beautiful scenery, lush forests and acres of tea plantations make for a very peaceful time. We'll have the unique opportunity to take a coracle (a bowl shaped boat made of reed) ride in the river and then we'll visit the stunning Abbey Falls.
Coorg
After exploring the natural beauty yesterday, today will be dedicated to Coorg's architecture. Amongst the places we'll see are Raja's Seat and Omkareshwara Temple. Afterwards a special treat awaits, as we'll head to the Dubare Elephant Camp, where you'll get to wash, feed, play with and ride the elephants.
Coorg – Mysore
On the way to Mysore we'll stop by the Namdroling Monastery. Upon arrival your day we'll visit the world famous Mysore Palace. The grand architecture is extravagantly beautiful and features a sprawling garden glowing with a rich array of tropical flowers. Afterwards we'll visit the Bull Temple to end our day.
Mysore – Sultan Bathery
Drive to Sultan Battery, a town quietly situated amongst the beautiful green hills outside of Mangalore, where many traditional spices are cultivated. Enjoy a trek through some of the plantations and then visit the city's famous watchtower. Then we'll visit the Chamundi Temple and Edakkal Caves.
Sultan Bathery
Today is devoted to the mouthwatering local cuisine and the majestic wildlife. We'll start with a cooking workshop with a local chef and then feast upon all the regional delights we make together. Then we'll go on a safari in Muthanga Wildlife Sanctuary to experience nature from as close as possible.
Sultan Bathery – Ooty
Ooty is a charming town that is perfect for roaming around aimlessly and seeing where the day takes you. Situated on the Nilgiris, otherwise known as the Blue Mountains, it is one of the highest towns in South India. It's cultural charm, beautiful views, and local market make it one of the area's loveliest towns.
Ooty
The nature in Ooty is simply wonderful. It is often used as a set location in Bollywood films and is a great place to find peace in Mother Earth. Some of the best spots in the area are the Botanical Gardens and Avalanche Lake. After a relaxing day in the great outdoors we'll visit the Wax Museum where an eclectic collection of figures awaits you.
Ooty - Coimbatore
The journey comes to an end. After driving to Coimbatore, it will finally be time to catch your flight home. Reminisce about the many magical moments you experienced over the last three weeks, and look forward to your next trip back to Mother India.