Yearnings of the mankind
Traverse through Central India. Experience spirituality, religion, romance and imprints of the early man. It's a journey that transcends time and goes beyond life.
Duration

13 Days
| | |
| --- | --- |
| Destinations | Mumbai | Aurangabad | Burhanpur | Omkareshwar | Maheshwar | Mandu | Ujjain | Bhopal | Mumbai |

Journey Highlights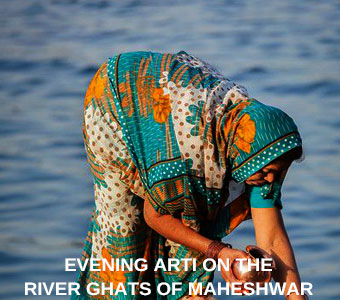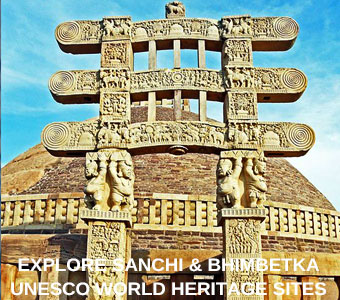 Arrive mumbai
Get greeted by our representative at the Mumbai (formerly Bombay) airport. Venture out on an excursion to Elephanta Island (UNESCO) in the afternoon. Situated in the Arabian Sea it dates back to the 8th century.
Mumbai
Start your morning with a tour of Colaba, a journey that will take you back to British Raj.  Catch the spirit of Mumbai in the environs Marine Drive, Gateway of India, Marine Drive and Dhobi Ghat (open laundry).
Mumbai-Aurangabad
Fly to Aurangabad and some time after checking in to your hotel go out on sightseeing that includes Ellora Caves (UNESCO), Daulatabad Fort, Bibika Maqbara and Aurangzeb`s tomb.
Aurangabad-Burhanpur
Leave for Burhanpur, a historic town where Mumtaz Mahal (of Taj Mahal fame) had died. Visit on the way the ancient Buddhist retreat, Ajanta Caves (UNESCO), one of the most defining cultural/spiritual heritage of India.
Burhanpur-Omkareshwar-Maheshwar
Explore Burhanpur and revel in the story of the love of Shahjahan and Mumtaz Mahal. Visit where the lady of the Taj was first buried. Later drive to Omkareshwar, one of the holiest Hindu cities.  In the evening reach Maheshwar.
Maheshwar
The still waters of the expansive Narmada River, considered by many even holier than Ganga make for a captivating sight at Maheshwar. Towering adjacent to the river is the Maheshwar Fort. The city is also famous for its eponymous saris.
Maheshwar-Mandu
Drive for Mandu, considered to be one of India's most romantic medieval forts. Known for its architecture Mandu makes for a leisurely retreat. Spend a relaxing evening regaled by the love story of Queen Rupmati and King Baz Bahadur.
Mandu
A visit to the amazing Jahaz and Hidola Mahal is the perfect recipe to start the day. Also wander in the precincts of the Jama Masjid, Ashrafi Mahal, Rani Rupmati pavilion and the Haathi Mahal.
Mandu-Ujjain
Drive on a scenic journey to Ujjain, which is one of the most sacred cities for the Hindus. Home to India's famous bard, Kalidasa what draws the devout to the city is the temple of Kalbhairav, a form of Lord Shiva.
Ujjain – Bhopal
A mesmerizing city of lakes, Bhopal unwinds itself on the plateaus of low lying hills. Famous for its rich culture and heritage your sightseeing will take you to Lakshmi Narayan Temple, Tajul Masjid and ShaukatMahal.
Bhopal
Explore India's remarkable Buddhist heritage on your drive to Sanchi (UNESCO) where Stupas contain the relics of Buddha and other saints. Later visit Udaigiri caves dating from 320 to 606 CE.  Have a relaxed evening in Bhopal.
Bhopal
Feel like an explorer at Bhimbetka (UNESCO). Its rocky terrain, dense forest and craggy cliffs hide within it over 600 rock shelters belonging to Neolithic age. The rock arts tell the story of a long lost past when man was yet to learn writing.
Bhopal –Mumbai
Your last day. Take a flight to Mumbai from where you will be transferred to your connecting flight back home. Surely you will turn nostalgic and the memories of the varied experiences will grip you.